When I first started making money from my art back in 2014, I was relying solely on commissions.
Every month I'd either have to deal with nightmare clients, or chase up late payments which often lead to me feeling overwhelmed and burned out 😅
Over the years I've learned that diversifying my income is one of the most reliable ways of making a living as an artist, but knowing which areas to focus on can be the tricky part…
So here's an overview of my income streams to help you out 👇🏻
This may seem like a lot to juggle but the key is to slowly add different income streams over time. I'd recommend focusing on 1 or 2 areas at the beginning so you don't feel overwhelmed 💕
Commissions can be a great way to earn money while you build up your other income streams but like I said before, it can also be very stressful if you're only relying on client work. Once you start to make money from other areas you can be a lot more selective with the types of projects you take on 💪🏻
Pros: Low risk and high reward
Cons: Projects don't always align with your brand or style
I started teaching on Skillshare just over 2 years ago, and since then my classes have amassed over 100k students (I still can't believe that many people have taken my classes 😅) If you're already creating mini tutorials or YouTube videos then teaching could be a great fit for you!
Pros: Generous income
Cons: Very time consuming
I'm currently working with several companies who license/rent out my designs to use on their products like puzzles, greeting cards and phone cases. In exchange, they pay me a small percentage of those sales in royalties. This can range anywhere between 5-8% depending on the type of product 😊
Pros: You can keep making money from the same designs for years to come
Cons: Sales can be very slow at the beginning
I love print on demand sites because they're so easy to set up. With just a few clicks I can sell my artwork on any product. They take care of everything from manufacturing, customer service and even sometimes marketing which allows me to focus on the fun part, creating! My go to POD sites are Society6 and Thortful.
Pros: Creates opportunities with licensing partners
Cons: You have to sell a lot of products to make a lot of money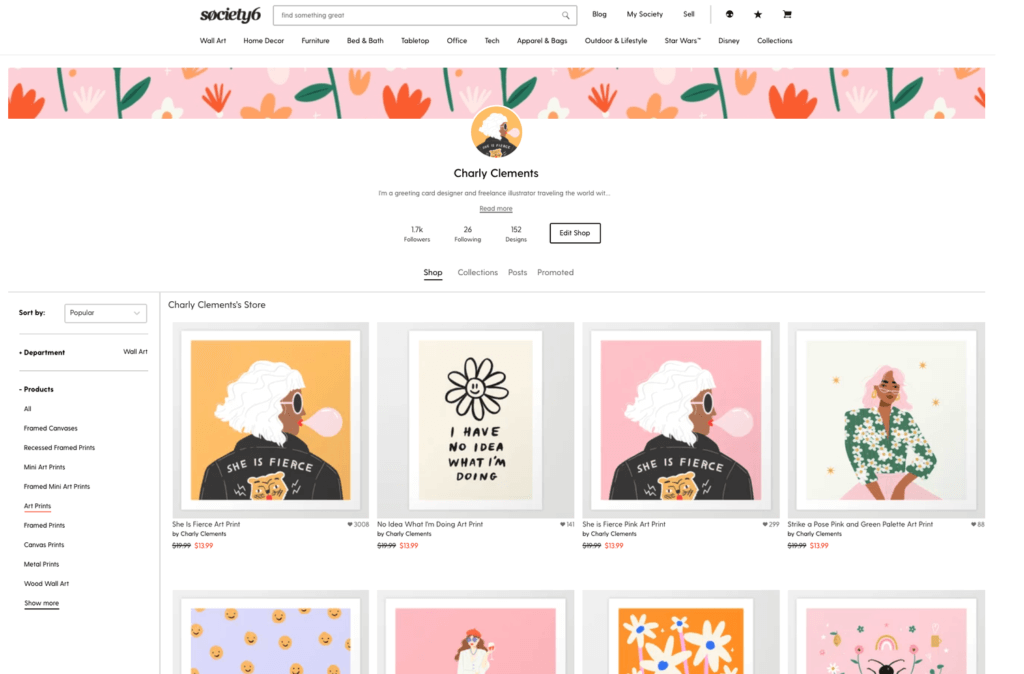 This is my newest addition, and although I'm still learning about how it all works, it's definitely worth mentioning.
Affiliates are where you recommend products through a special link on your blog, YouTube or a swipe up on Instagram stories and If someone purchases that product through your link you'll get a small commission from that sale. Lots of brands have affiliate programs you can sign up for but the key is to only promote products that you're truly passionate about 😊
Pros: Very easy way to make passive income
Cons: This works best if you already have a large following
My advice for anyone getting started is to focus on 1-2 areas at a time, and then work your way up from there. Another thing to mention is be kind to yourself throughout the process. Having multiple income streams takes time and patience, so don't be disheartened if you don't see results straight away. It took me several years to get to this point and I'm still learning as I go.
Good luck and if you have any questions about making money as an illustrator feel free to drop a comment below 💕